Despite some uneven Carolina Panthers results in recent years, game day at Bank of America Stadium is still one of the best environments in the NFL.
With No. 1 overall pick Bryce Young under center this year, Panthers fans may start to see their fortunes change and their star rise in the NFC South.
Are you planning to attend any games in 2023? Here is everything you need to know about watching the Panthers live and in person.
Traveling to a Panthers Home Game
Interstates 277 and 77 wrap around the stadium on two sides. Traveling in either direction on I-77, you can take the Morehead Street exit to get to the stadium. Traveling south on I-277, you can also catch the Morehead exit. Heading northbound on 277, you'll want to exit on North Graham Street and head south toward the stadium.
For those wanting to take the LYNX light rail into the games, take the Blue Line and get off at one of two stops:
Carson

 

3rd Street/Convention Center
Both stops will put you within walking distance of Bank of America Stadium.
Where to park at B of A Stadium
Season ticket holders have parking all around Bank of America Stadium. There are also 30,000-plus parking spots within a 10-15 minute walk from the stadium. 
ParkWhiz is how you can purchase parking in remote lots. It's a good idea to book in advance to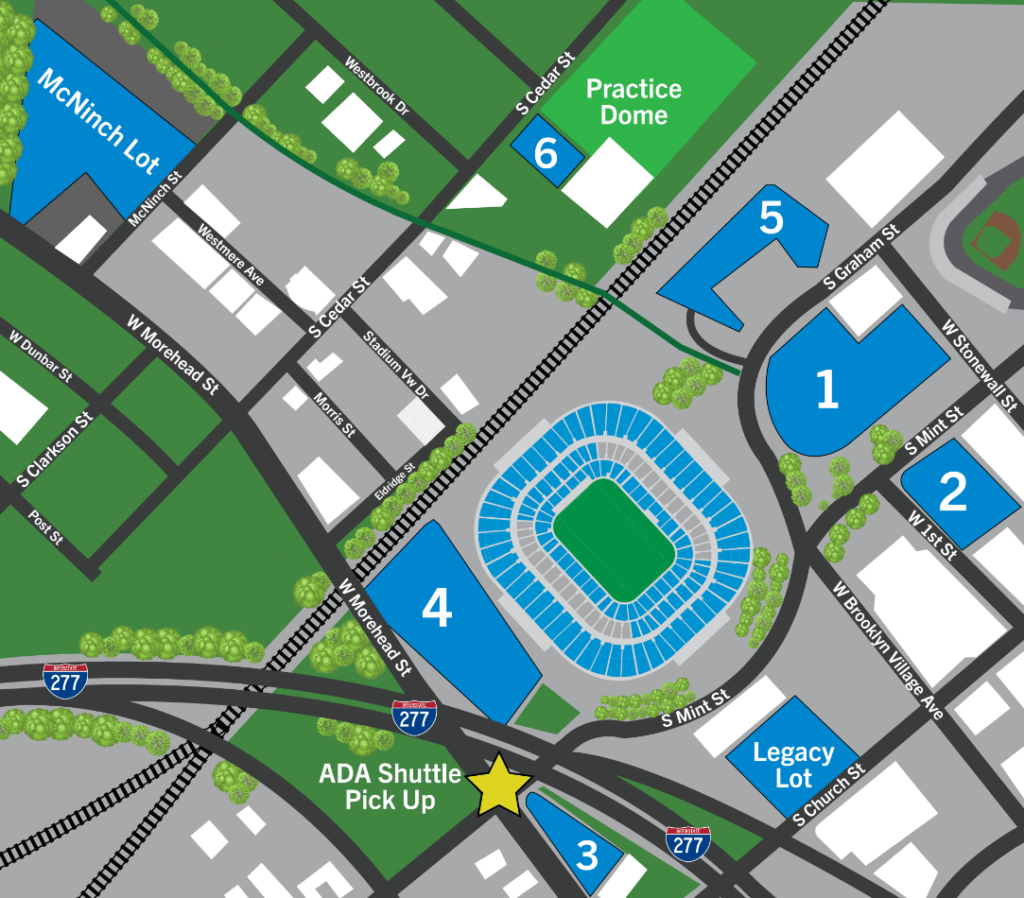 ensure you get a spot.
To go along with preparing in advance for parking (it does sell out), have the Waze app handy for updates on traffic, road closures and guidance around any other gameday traffic holdups.
ADA parking and compliance
It's important to note that Bank of America Stadium has no reserved handicapped parking. However, Atrium Health Carolinas Medical Center does operate a shuttle for $40 that will get you to the stadium in under 10 minutes.
The shuttle service starts two hours before kickoff and resumes at halftime.
Per the Panthers homepage:
The three stadium entrance gates (North, East and South) are equipped for accommodating guests with disabilities. If you have a bag subject to inspection, proceed to the extreme right or extreme left side at the North and East gates or to the extreme right side at the South gate as you enter the stadium, and a stadium employee will assist you. If you do not have a bag, proceed to the middle of any gate, and a stadium employee will assist you. Once inside the stadium, staff at the Guest Relations Booths can assist with any questions. Fans needing to bring medical supplies or special food items should contact the director of security for more details on the approval process.
Wheelchair-accessible seating can also be arranged through the Carolina Panthers ticketing office at 704-358-7800. If fans purchase tickets through Ticketmaster or another ticket service, wheelchair seating must be selected at the time of purchase.
Tailgating at Bank of America
Bank of America Stadium has two official Panthers parking lots:
Stadium Lot 1 (North Gate)
Stadium Lot 99
You can tailgate in each of these two lots, but you can also tailgate in nearly any other surface lot where parking is allowed. Look for bins for collecting ash and charcoal, and you'll know you're in a tailgate lot. You cannot, however, tailgate in parking garages. 
Also, do not forget one of the most convenient tailgating options at Carolina Panthers games: the PantherFanz Tailgating Club area. It's an excellent alternative to bringing your own grill, food, drinks and other things. 
Panthers Park in Romare Bearden Park is also a favorite for younger fans. That has football activities for kids at the Play60 kids combine and includes mascot appearances. 
Lastly, once it gets closer to game time, the Panthers offer an interactive fan experience called the Panthers Lair. On the corner of Morehead Street and Mint Street, the Panthers have food trucks, a DJ, giveaways, interactive games and more. 
Tailgating guidelines at B of A Stadium
There are some tailgating rules at B of A, and they're mainly concerned with grilling and disposing of embers. You can't grill within 25 feet of a building and 10 feet of a motor vehicle.
You must also try to dispose of coals and embers before heading to the game.
Alcohol is permitted at your tailgate as long as you don't take any alcoholic beverages into the game. You'll go through security to enter the game, and they'll take it from you. Every time.
Leave your cash at home
Bank of America Stadium, keeping up with many NFL stadiums, is an entirely cashless venue. All vendors, concessions and retail locations will only accept card or mobile payments.
All purchases must be made via credit, debit card, touch-free payment or through the Panthers app. 
Speaking of the Panthers app, you can use it to order food in advance at the concession stands and skip the massive lines at halftime and quarter breaks.
Concessions options
There is a little something for everyone if you're eating inside the stadium. There is the Sabor Latin Grill if you're looking for tacos, empanadas or churros. There is also Bojangles if you're hungry for some fried chicken.
Classic stadium foods include hot dogs, bratwurst, pizza, burgers and nachos. Of course, it wouldn't be the South if BBQ wasn't on the menu at several spots around the concourse.
If you like popcorn, you're in luck. You can get a bottomless tub from most stands.
Carolina Panthers 2023 home schedule
| NFL Week | Date | Time | Opponent |
| --- | --- | --- | --- |
| 2 | Monday, Sept. 18 | 7:15 p.m. | Atlanta Falcons |
| 4 | Sunday, Oct. 1 | 1:10 p.m. | Minnesota Vikings |
| 8 | Sunday, Oct. 29 | 1 p.m. | Houston Texans |
| 9 | Sunday, Nov. 5 | 4:05 p.m. | Indianapolis Colts |
| 11 | Sunday, Nov. 11 | 1 p.m. | Dallas Cowboys |
| 15 | TBD | TBD | Atlanta Falcons |
| 16 | Sunday, Dec. 24 | 1 p.m. | Green Bay Packers |
| 18 | TBD | TBD | Tampa Bay Buccaneers |
Entry policies at Bank of America Stadium
There are a few essential things to know about getting into games once you are ready to head inside Bank of America Stadium. Referenced below is information directly from the Carolina Panthers' official website:
Every child over 12 months old must have a game ticket to enter the stadium. Any child under 12 months old that does not have their own ticket has to share a seat with an adult.
All teams in the NFL enforce the league's clear bag policy; approved items may be placed in transparent plastic, vinyl or PVC bag no larger than 12-inches-by-6-inches-by-12-inches or purses, bags or clutches no larger than 4.5-inches-by-6.5-inches.
Blankets are allowed in the stadium during the winter months. Fans will be asked to shake out the blanket to go through security. If a bag holds the blanket, the bag must still meet the stadium bag policy.
All entries to Bank of America events require mobile tickets, as PDF tickets will no longer be valid for entry. All users, both personal seat license holders and single-game ticket buyers, can access and manage their tickets through the free Panthers Official App. Mobile ticketing will allow ticket holders to manage conveniently, transfer (forward), or sell tickets and will aid in efforts to reduce the risk of lost or counterfeit tickets.
Sports betting at Carolina Panthers games
As part of the new law allowing for online sports betting in North Carolina, Bank of America Stadium approved to open a retail sportsbook on-site. While that is likely still a season away, expect to see stadium construction for such renovations in the near future.
For now, the closest retail sportsbook to Bank of America Stadium is at the Catawba Two Kings Casino. The Kings Mountain casino opened a sportsbook in 2022. We took a look inside.
Image: Jacob Kupferman /AP photo